L'utopia della trasparenza nella poesia italiana contemporanea
Origine e sopravvivenza di una metafora nell'era digitale
Parole chiave:
poesia contemporanea, distopia, trasparenza, WikiLeaks, vetro
Abstract
La metafora della trasparenza occupa una posizione di rilievo nei rapporti fra la poesia italiana contemporanea e la cultura digitale. Dopo aver ripercorso i momenti salienti dell'influenza che WikiLeaks e il dibattito sul libero accesso ai dati sensibili esercitano sulla letteratura, saranno vagliate le diverse formulazioni utopiche di una società della trasparenza e ne saranno indagati i risvolti distopici espressi in versi. Si proporrà infine di rivedere l'opposizione frontale fra utopia e distopia, e si concluderà con una panoramica sugli esiti utopici/distopici di una società trasparente a diretto confronto con la storia del vetro quale catalizzatore di una specifica retorica europea.
Riferimenti bibliografici
L. Accerboni, Acqua Acqua Fuoco, Torino, Einaudi, 2020.
S. Ahmed, La promesa de la felicidad. Una crítica cultural al imperativo de la alegría [2010], trad. di H. Salas, Buenos Aires, Caja Negra, 2019, p. 338.
C. Alcaraz, Big cum goal off, trad. di A. Pellegatta, in M. Dagnino, A. Pellegatta (eds.), Planetaria. 27 poeti del mondo nati dopo il 1985, Milano, Taut, 2020 p. 13.
T. Ali, M. Kunstler (eds.), In Defense of Julian Assange, New York, OR Books, 2019, DOI 10.2307/j.ctvs1g8pk.
A. Anedda, Historiae, Torino, Einaudi, 2018.
C. Bagnoli, Casa di vetro, Milano, La Vita Felice, 2012.
D. Balzer, Curationism: How Curating Took Over the Art World and Everything Else, Toronto, Couch House Book, 2014.
F. B. Berardi, Fenomenología del fin. Sensibilidad y mutación colectiva [2016], trad. di A. López Gabrielidis, Buenos Aires, Caja Negra, 2017.
M. Bessone, Culte de l'internet et transparence: L'héritage de la philosophie américaine, «Esprit», luglio 2011, DOI 10.3917/espri.1107.0145.
M. Borio, Trasparenza, Novara, Interlinea, 2018.
N. Bowles, J. T. Hamilton (eds.), Transparency in Politics and the Media: Accountability and Open Government, Londra, I.B.Tauris, 2013.
P. Breton, L'utopia della comunicazione. Il mito del "villaggio planetario" [1992], trad. di M. Offi, Torino, Utet, 1995
B. Brevini, A. Hintz, P. Mccurdy (eds.), Beyond Wikileaks: Implications for the Future of Communications, Journalism and Society, Londra, Palgrave Macmillan, 2013.
F. Buratto, Captcha. Programmato per essere, Milano, ExCogita, 2020.
A. Carson, Variations on the Right to Remain Silent, in Float, Londra, Jonathan Cape, 2016.
A. Cerasuolo, P. Piscitello, M. Santucci, Ritratto di fra' Luca Pacioli con un allievo, in A. Marchi, M. R. Valazzi, La città ideale. L'utopia del Rinascimento a Urbino tra Piero Della Francesca e Raffaello, Milano, Electa, 2012, p. 238.
R. Cescon, La direzione delle cose, Roma, Ladolfi, 2014.
C. G. Christians, M. Fackler, K. Brittain Richardson et al., Media Ethics: Cases and Moral Reasoning, Londra-New York, Routledge, 2017
C. Cuadra, Serynoser. WikiLeaks Poems, Granada, La Mirada Malva, 2014.
A. De Alberti, Dall'interno della specie, Torino, Einaudi, 2017.
L. De Giusti (a cura di), Il cinema brucia e illumina. Intorno a Fellini e altri rari, Venezia, Marsilio, 2011
C. Demaria, «Documentary Turn»? La cultura visuale, il documentario e la testimonianza del "reale", «Studi culturali», 2, 2011, pp. 155-176.
S. Di Spigno, Fermata del tempo, Milano, Marcos y Marcos, 2015.
R. Donati, The utopia of sincerity through transparency, «Between», IX, 2019, 18, DOI 10.13125/2039-6597/3658.
J. I. Engels, F. Monier (eds.), Researching the History of Transparency: Introduction, in The History of Transparency in Politics and Society, Göttingen, V&R unipress, 2020.
U. Fiori, Il conoscente, Milano, Marcos y Marcos, 2019.
K. Goldsmith, Uncreative Writing: Managing Language in the Digital Age, New York, Columbia University Press, 2011, p. 102.
E. Grillo, L'utopia della comunicazione: cibernetica e arte informale, «Ocula», XVIII, 2017, s. n., DOI 10.12977/ocula84.
B. Groys, Arte en el flujo. Ensayos sobre la evaneciencia del presente [2016], trad. di Paola Cortes Rocca, Caja Negra, Buens Aires 2016
B. Han, La sociedad de la transparencia [2012], trad. di Raúl Gabás, Barcellona, Herder, 2018.
D. Hockney, Secret Knowledge. Redescovering the Lost Techniques of the Old Masters, New York, Viking Studio, 2006.
G. Iacoli, «Quell'esile filo che ti lega a Venezia vorrei che diventasse un canapo». Su un film mai girato, tra Fellini e della Corte, in V. Gobbato, S. Uroda (eds.), «Una raffinata ragnatela». Carlo della Corte tra letteratura e giornalismo nel secondo Novecento italiano. Atti della Giornata di studio (Venezia, Istituto Veneto di Scienze, Lettere ed Arti, 5 dicembre 2012), Venezia, Edizioni Ca' Foscari - Digital Publishing, 2014, pp. 171-188.
A. Inglese, G. Bortolotti, A. Broggi et al., Prosa in prosa, Firenze, Le Lettere, 2009.
F. Italiano, Habitat, Roma, Elliott, 2020.
F. Jameson, Arqueologías del futuro. El deseo llamado utopía y otras aproximanciones de ciencia ficción [2007], trad. di C. Piña Aldao, Madrid, Akal, 2009, p. 27.
R. Koolhaas, Junkspace, trad. di G. Mastrigli, Macerata, Qodlibet, 2006.
A. Launay, Crucial Nodes Designed To Be Ignored, in P. Cirio (a cura di), Evidentiary Realism. Investigative, Forensic, Documentary Art, Morrisville, Lulu.com Self Publishing, 2019, p. 135.
A. Lolini, Carte da sandwich, Torino, Einaudi, 2013.
L. Lonardelli, Distopia, in S. Marini, G. Corbellini, Recycled Theory: Dizionario illustrato, Macerata, Quodlibet, 2016, p. 164.
V. Magrelli, Natale, credo, scada il bollino blu, in Il sangue amaro, Torino, Einaudi, 2014.
P. Mansel, Constantinopla. La ciudad deseade por el mundo. 1543-1924 [1995], trad. di F. Miranda, Granada, Almed, 2005.
J. Mariani, "Transparency" from Pentagon Papers to Wikileaks: a linguistic revolution, Tesi magistrale, Università di Verona, 2012-2013, relatrice prof.ssa R. Facchinetti
G. Martin, A. MacFarlane, The Glass Bathyscaphe: How Glass Changed the World, Londra, Profile Books, 2002.
G. Mazzoni, La pura superficie, Roma, Donzelli, 2017.
M. Micaletto, stesura, Roma, Prufrock, 2015.
B. Mussolini, Ai gerarchi milanesi, in Discorsi del 1929, Milano, Alpes, 1930.
G. Neri, L'aspetto occidentale del vestito, Parma, Guanda, 1976.
G. Neri, Liceo, Parma, Guanda, 1986.
G. Neri, Teatro naturale, Milano, Mondadori, 1998.
H. U. Obrist, In Conversations with Julian Assange. Part I, in J. Aranda, B. Kuan Wood, A. Vidokle (eds.), The Internet does not exist, Berlino, Stemberg Press, 2015, pp. 207-244.
P. Pellini, In una casa di vetro. Generi e temi del naturalismo europeo, Firenze, Le Monnier, 2004.
G. Ponti, Amate l'architettura. L'architettura è un cristallo, Genova, Vitali e Ghiabda, 1957.
G. Pontiggia, Le sabbie immobili [1991], Milano, Mondadori, 2007.
L. Riviello, Sonnologie, Genova, Zona, 2016.
R. Riccini, Gli oggetti della letteratura: il design tra racconto e immagine, La Scuola, Brescia, 2017.
A. Roberts, WikiLeaks: the illusion of transparency, "International Review of Administrative Sciences", LXXVII, 2012, 1, DOI 10.1177/0020852311429428.
É. Sadin, La silicolonización del mundo. La irresistible expansión del liberalismo digital [2016], trad. di M. Martínez, Buenos Aires, Caja Negra, 2018.
P. Scheerbart, Architettura di vetro [1914], trad. di G. Schiavoni, Milano, Adelphi, 1982.
M. Schudson, The Rise of the Right to Know Politics and the Culture of Transparency, 1945–1975, Cambridge (MA)-Londra, Belknap Press, 2015.
J. Seijdel (a cura di), Transparency: Publicity and Secrecy in the Age of Wiki Leaks, Rotterdam Nai Uitgevers Pub, 2011.
G. Simonetti, La letteratura circostante. Narrativa e poesia nell'Italia contemporanea, Bologna, il Mulino, 2018.
C. Sreedharan, E. Thorsen e S. Allan, WikiLeaks and the changing forms of information politics in the "network society", in E. Downey, M. A. Jones (eds), Public Service, and Web 2.0 Technologies: Future Trends in Social Media, Hershey, IGI Global, 2012, pp. 167–180.
K. Wahl-Jorgensen, J. Hunt, Journalism, accountability and the possibilities for structural critique: A case study of coverage of whistleblowing, «Journalism», XIII, 2012, 4, pp. 399–416.
S. Yazbek, Passaggi in Siria [2015], trad di A. Grechi, Palermo, Sellerio, 2017.
S. Zuboff, Il capitalismo della sorveglianza. Il futuro dell'umanità nell'era dei nuovi poteri, trad. di P. Bassotti, Roma, Luiss, 2019.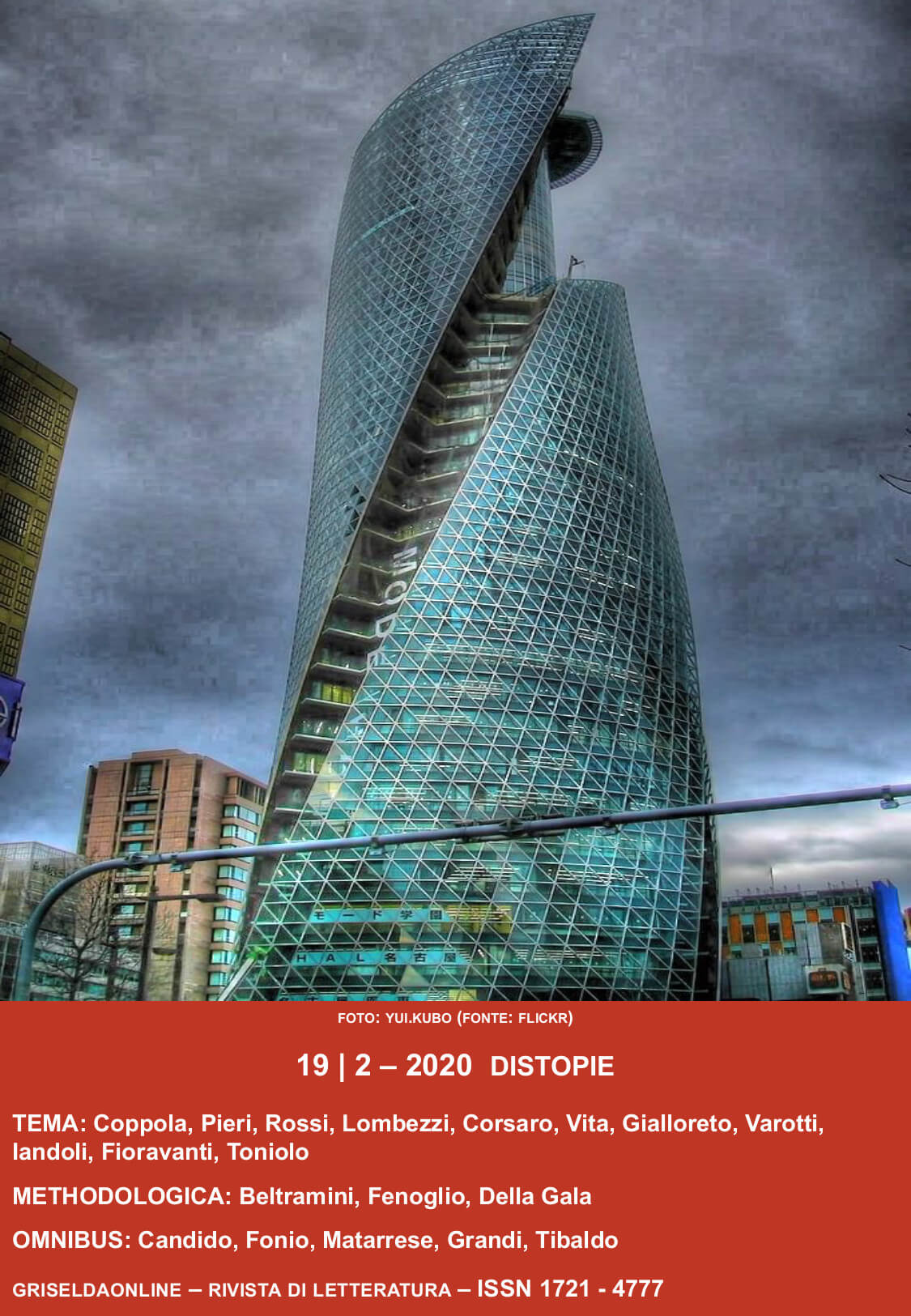 Downloads
Come citare
Fioravanti, S. (2020). L'utopia della trasparenza nella poesia italiana contemporanea: Origine e sopravvivenza di una metafora nell'era digitale. Griseldaonline, 19(2), 135–151. https://doi.org/10.6092/issn.1721-4777/11502
Licenza
Copyright (c) 2021 Samuele Fioravanti
Questo lavoro è fornito con la licenza Creative Commons Attribuzione - Condividi allo stesso modo 4.0.