Linguaggio e distopia: il 'Newspeak' in «Nineteen Eighty-Four» di George Orwell
Parole chiave:
George Orwell, Newspeak, relativismo linguistico, Antoine Berman, superficie d'iconicità
Abstract
Nel mondo distopico che George Orwell immagina nel suo romanzo 1984, il partito egemone l'Ingsoc promulga il Newspeak, un linguaggio creato al fine di realizzare i bisogni ideologici del partito: controllare il singolo individuo e impedire l'esercizio del suo libero pensiero. Le lingue immaginarie hanno sempre giocato un ruolo importante all'interno del genere distopico: la struttura della società si riflette in quella della lingua, l'intima relazione tra mondo e linguaggio viene sfruttato per fini politici. L'articolo indaga - attraverso la prospettiva del relativismo linguistico – il funzionamento del rapporto tra segno linguistico e referente che caratterizza il Newspeak inventato da Orwell in 1984. Lo studio utilizza in particolare i concetti di denotazione e connotazione e li mette in relazione con la superficie d'iconicità delle parole teorizzato da Berman.
Riferimenti bibliografici
P. Albani, B. Buonarroti, Aga Magéra Difúra, Bologna, Zanichelli, 2010;
J.-P. Andrevon, Anthologie des dystopies - Les mondes indésirables de la littérature et du cinéma, Paris, Vendémiaire, 2020;
M. Atwood, The Handmaid's Tales, Toronto, McClelland and Stewart, 1985;
R. Barthes, Mythologie et le mythe d'aujourd'hui, Paris, Seuil, 1957.
A. Berman, La traduction et la lettre ou l'auberge du lointain, Paris, Seuil, 1991;
J.L. Borges, Finzioni, Einaudi, Torino, 1985, [Trad. di Franco Lucentini];
D. Breton, « Parlez-vous novlangue ? Du formatage des esprits en français et en espagnol contemporains, ou les enjeux d'une rupture entre mot et chose », «Babel», 26, 2012;
A. Burgess, A Clockwork Orange, London, Heinemann, 1962;
A. Colombo (a cura di), Utopia e distopia, Bari, Dedalo, 1993;
J.-J. Courtine, L. Willett, «A Brave New Language: Orwell's Invention of "Newspeak" in 1984», «SubStance», XXV, 2 – 50, The Johns Hopkins University Press, 1986, pp. 69-74, DOI: 10.2307/3684756;
J. Dewitte, Le pouvoir de la langue et la liberté de l'esprit. Essai sur la résistance au langage totalitaire, Paris, Michalon, 2007 ;
C. Dessy, V. Stiénon, (Bé)vues du futur: Les imaginaires visuels de la dystopie (1840-1940), Villeneuve d'Ascq, Settentrion, 2015;
T. De Mauro, Guida all'uso delle parole, Roma, Editori Riuniti, 1980;
A. Gales, « Vous avez dit novlangue ? », «Ballast», I, 2, 2015, pp. 88-97;
P. Gill, Colouring meaning : collocation and connotation in figurative language, Amsterdam, John Benjamins, 2011; https://doi.org/10.1075/scl.43;
G. Graffi, S. Scalise, Le lingue e il linguaggio. Introduzione alla linguistica, Bologna, Il Mulino, 2002;
N. Guilleux, Langue(s) et utopie – I : Remarques générales, «Kentron» XXVI, 2010, pp. 119-146. https://doi.org/10.4000/kentron.1395;
L. Hjelmslev, Prolégomènes à une théorie du language, Minuit, Paris, 1973;
E. Hobsbawm, The Age Of Extremes: 1914-1991, London, Michael Joseph, 1994;
A. Huxley, Brave New Word, London, Chatto & Windus, 1932.
C. Kerbrat-Orecchioni, Les Interactions verbales, tome II, Paris: A. Colin, 1992;
A. Krieg-Panque, «La "novlangue": une langue imaginaire au service de la critique du "discours autre"», S. Branca-Rosoff (éd.), L'hétérogène à l'œuvre dans la langue et les discours. Hommage à Jacqueline Authier-Revuz, Limonges, Editions Lambert-Lucas, 2012, pp. 69-83.
I. Levin, This Perfect Day, London, Random House, 1970.
D. Maingueneau, Les termes clés de l'analyse du discours, Paris, Seuils, 2009;
I. McEwans, Solar, London, Random House, 2011.
N. Minerva, «Un contributo essenziale per un assetto armonico», «MORUS - Utopia e Renascimento», 6, 2009, pp. 424-433;
G. Orwell, 1984, Boston, Houghton Mifflin Harcourt, 1983 (I ed. 1947).
O. Pot (éd.), Langues imaginaires et imaginaire de la langue, «Cahiers d'Humanisme et Renaissance», 148, Genève, Droz, 2018;
A. Robinet, Le langage à l'âge classique, Paris, Klincksieck, 1978. p. 249.
V. Stiénon, «Séjours en dystopie, ou l'anticipation à la française », «Acta fabula», XIV, 6, 2013;
R. Vaissermann, «Uglossies», «Acta fabula», VII, 5, 2006 ;
M. Yaguello, Les Langues imaginaires. Mythes, utopies, fantasmes, chimères et fictions linguistiques, Paris, Seuil, 2019;
O. Reboul, «Parlons-nous déjà le « Newspeak » d'Orwell?», «Autres Temps. Les cahiers du christianisme social», 4, 1984. pp. 96-100;
P. Ronzeaud, L'utopie hermaphrodite, Marseille, C.M.R, 1981;
J.R.R. Tolkien, The Fellowship of the Ring, (1954); The Two Towers, (1954); The Return of the King, (1955), London, George Allen & Unwin;
R. Trousson, «Avant-propos», F. Sylos (éd.) «Uglossies, Travaux et Documents», XXIII, 2005.
G. Zhou, «The Language of Utopia», «Placing the Modern Chinese Vernacular in Transnational Literature», New York, Palgrave Macmillan, 2011, https://doi.org/10.1057/9780230117044_2;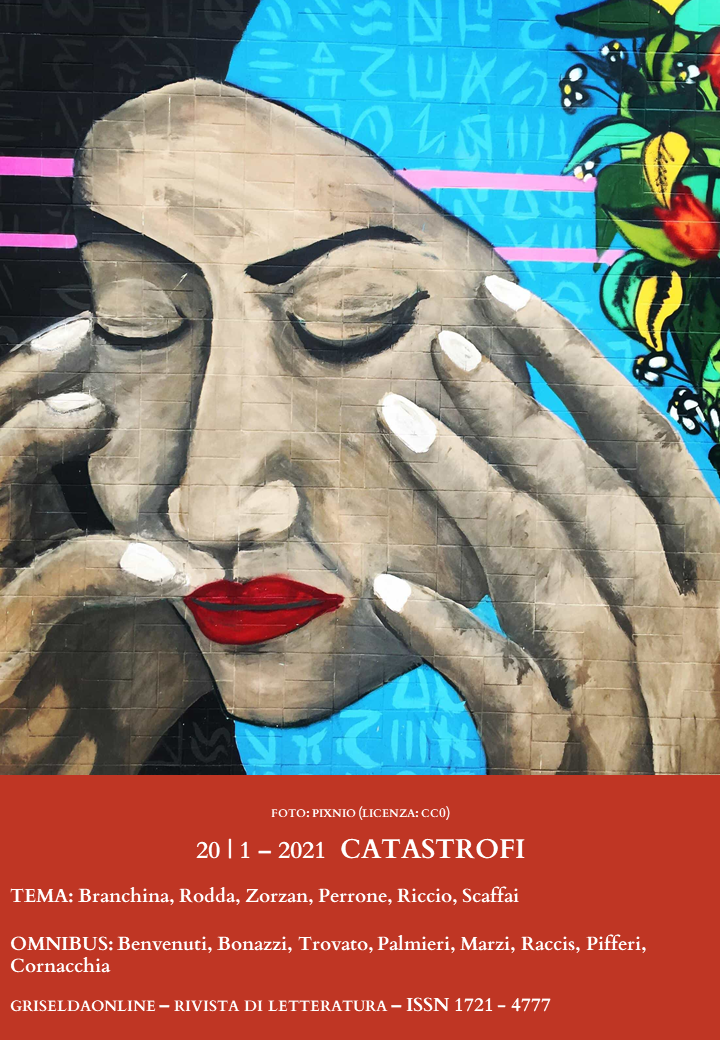 Downloads
Come citare
Marzi, E. (2021). Linguaggio e distopia: il 'Newspeak' in «Nineteen Eighty-Four» di George Orwell. Griseldaonline, 20(1), 179–194. https://doi.org/10.6092/issn.1721-4777/11503
Licenza
Copyright (c) 2021 Eleonora Marzi
Questo lavoro è fornito con la licenza Creative Commons Attribuzione - Condividi allo stesso modo 4.0.